THE BODY BEHIND THE BAR.
By Cecil Freeman Gregg (1898-circa 1960).
Methuen.
1932. 249 pages. 7s. 6d initially. On Amazon currently: $890.00.
No e-texts available.
One puzzle remains: why is this prolific writer so unjustly forgotten? — Jon Jermey
Gregg's writing career started later than Agatha Christie's but ended before hers:
Most crime stories are concerned with a man-hunt; but as a rule the detective is the hunter and the criminal the hunted.
Mr. Cecil Freeman Gregg, in "The Body Behind the Bar," reverses the process.
A dangerous criminal called the "Bear" goes to penal servitude for stealing £50,000 worth of jewels. As he leaves the dock he swears vengeance on the man who put him there, Detective-Inspector Higgins, a cheery fellow who has already figured in Mr. Gregg's pages.
The "Bear" escapes and sets out on the trail of Mr. Higgins. A lively yarn. — "Review," THE BOOKMAN [U.K.] (December 1932)
[Gregg] had two main series characters, Inspector Cuthbert Higgins and Harry Prince. Harry Prince debuted in "A Tale Without Moral," in The Ten Black Pearls in 1935. He was a somber anti-hero, a thief without apology who was driven to a life of crime due to the death of his wife Ethel. Cuthbert Higgins is a heavily-built Scotland Yard detective with a flair for breaking the rules. Despite his handiness in a fight, Higgins is a deep thinker and excels at unravelling complicated mysteries. — GAD Wiki
Other Gregg texts that are online:
~ THE MURDER ON THE BUS (1930) is HERE.
~ I HAVE KILLED A MAN! (1931) is HERE.
~ INSPECTOR HIGGINS HURRIES (BEING A DAY IN HIS LIFE) (1932) is HERE.
~ THE DOUBLE SOLUTION: A TALE OF INSPECTOR HIGGINS (1932) is HERE.
Jon Jermey has reviews of Gregg's EXIT HARLEQUIN (1946) HERE and FROM INFORMATION RECEIVED (1950) HERE.
Other reviews:
~ THE BODY IN THE SAFE (1930) HERE.
". . . you will have to go far to find a better mystery."
~ THE MURDER ON THE BUS (1930) HERE.
". . . a murder mystery with a snapper on the end."
~ MURDER IN THE PARK (1935) HERE.
"Plot a bit involved . . ."
~ DANGER AT CLIFF HOUSE (1936) HERE.
"Action swift, but soggy British humor pretty terrible."
~ THE MURDER OF ESTELLE CANTOR (1936) [a.k.a THE TEN BLACK PEARLS] HERE.
"Painless."
~ TRAGEDY AT WEMBLEY (1936) HERE.
". . . a completely surprising solution."
~ THE OLD MANOR (1946) HERE.
"Old-hat."
A few other titles by Gregg (covers only):
~ DEAD ON TIME (1956)
~ TWO DIED AT THREE (1943)
~ THE WRONG HOUSE (1937)
~ INSPECTOR HIGGINS SEES IT THROUGH (1934)
~ THE OBVIOUS SOLUTION (1958)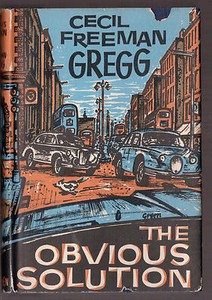 ~ MURDER IN THE PARK (1935)
Resources:
- A French Wikipedia article ("Cecil Freeman Gregg").
- A listing of Gregg titles is HERE.
- Amazon's current catalog HERE.

Category: Detective fiction