Art and commerce are not irreconcilable, they are inextricably intertwined. — Nicholas Meyer
When you're hot, as they say, you're hot; for the cousins better known as "Ellery Queen," being at the time a household word brought cash as well as fame. Here they are usually sharing space with other mystery writers in several back issues of LIFE magazine:
~ In a feature article, November 22, 1943, beginning on page 70 [WARNING: SPOILERS].
~ In a Detective Book Club ad, October 29, 1945,

on page 5

.
~ In a Dollar Mystery Guild ad, January 3, 1949, on page 11.
~ Another Dollar Mystery Guild ad, August 8, 1949, on page 3.
~ And in a beer ad, April 14, 1952, on pages 62-63.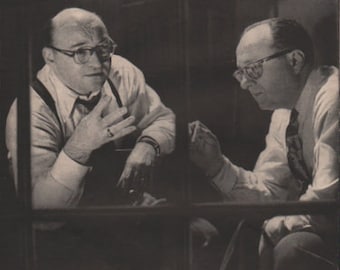 Category: Detective fiction