Whenever volcanic personalities like Shaw and Chesterton share the same spotlight, something's bound to happen. Excerpts:
WHEN MR. BERNARD SHAW accepts a secondary position like that of plain juryman in a mock trial, he must of course play Bernard Shaw. So when he recently sat on the jury that decided whether John Jasper was the murderer of Edwin Drood, he interrupted the proceedings at their outset by telling the counsel for the prosecution that "if the learned gentleman thinks a British jury is going to be influenced by evidence, he little knows his country."
One could almost wish it had been a real jury he was sitting on, to see how the dignity of the English bench would have met this sally.
However, it was only a trial organized for the entertainment of the Dickens Fellowship of London, but many distinguished literary men participated. G. K. Chesterton was the judge; his brother, Cecil, was one of the counsel; and in the jury, besides Mr. Shaw, were Sir Edward Russell, W. W. Jacobs, Mr. Pett Ridge, William de Morgan, Coulson Kernahan, and Arthur Morrison.
The trial was an effort to determine how Dickens would have finished "Edwin Drood" if he had lived to do so. — "Tried for the Murder of 'Edwin Drood'," THE LITERARY DIGEST (February 7, 1914)
Click on image to enlarge.
Interestingly enough, Arthur Conan Doyle declined to participate. This same "trial" is described this way:
In January 1914, John Jasper (played by Frederick T. Harry) stood trial for the murder of Edwin Drood in London. The "trial" was organised by the Dickens Fellowship. G. K. Chesterton, best known for the Father Brown mystery stories, was the judge, while George Bernard Shaw was the foreman of the jury, made up of other authors. J. Cuming Walters, author of The Complete Edwin Drood, led the prosecution, while Cecil Chesterton acted for the defence.
Proceedings were very light-hearted with Shaw in particular making wisecracks at the expense of others present. For instance, Shaw claimed that if the prosecution thought that producing evidence would influence the jury then "he little knows his functions."
The jury returned a verdict of manslaughter, Shaw stating that it was a compromise on the grounds that there was not enough evidence to convict Jasper but that they did not want to run the risk of being murdered in their beds. Both sides protested and demanded that the jury be discharged. Shaw claimed that the jury would be only too pleased to be discharged. Chesterton ruled that the mystery of Edwin Drood was insoluble and fined everyone, except himself, for contempt of court. — Wikipedia ("The Mystery of Edwin Drood")
Resources:
- A transcript of the "trial" is available HERE.
- In April 1914, a similar "trial" was held in the United States to benefit charity; the full text is HERE.
- Go HERE for a previous ONTOS article concerning DROOD.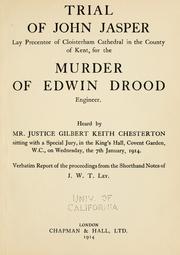 Category: Detective fiction