THE MURDER OF EDWIN DROOD: RECOUNTED BY JOHN JASPER, BEING AN ATTEMPTED SOLUTION OF THE MYSTERY BASED ON DICKENS'S MANUSCRIPT AND MEMORANDA.
By Percy T. Carden and Charles Dickens.
C. Palmer.
1920. 125 pages.
Online HERE, HERE, and HERE.
Fifty years after Dickens's death and a solution at last! Yeah, sure. A brief excerpt:
It is probably now possible to say that everything emanating directly or indirectly from Dickens in connection with the story is known. Mr. Carden has, however, gone considerably further than this, in that with vivid imagination and not a little literary skill he has sketched out a solution of the story upon entirely novel and highly interesting lines. Starting from the hint given by Forster that the originality of the story was to have been a review of the murderer's career told by himself as if not he, but some other man, were the tempted, Mr. Carden has constructed, largely from Dickens's own materials, a series of episodes, in which he very skilfully propounds his own solution of some of the problems in which the fragment abounds. Whatever opinion may be entertained as to the success of his efforts, no doubt can be felt that he has stated his case forcibly and ingeniously, and the novelty of his method, combined with his considerable literary skill, render his book both interesting and exciting. — Unsigned, "A New Solution of 'Edwin Drood'," THE LIVING AGE (February 12, 1921)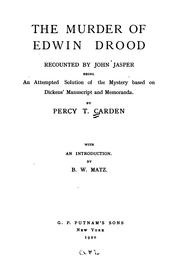 Resources:
- The New York Times review (January 30, 1921), reproduced at DROODIANA.ru.
- Previous DROOD-related ONTOS articles HERE and HERE.
Category: Detective fiction